Wood Floor Borders
Hardwood Floor Borders. Made in U.S.A. Place inlays around the room, table or island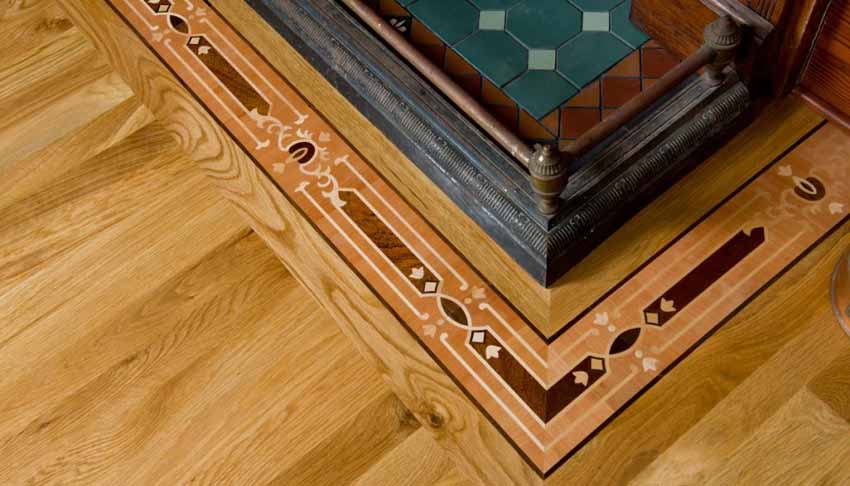 Floor Borders can be used to define a specific area or convert an otherwise commodity wood floor into an upscale, top-of-the-line specialty. Hardwood borders are available in the patterns below or a custom pattern of your own design. Flooring borders can be handcrafted in the species combinations shown below or one of your own specifications. These pre-assembled modules can be glued-down to any level, clean, dry, and sound sub-floor. Read More...
| | | |
| --- | --- | --- |
| $39.95 | $52.00 | $45.00 |
| $35.00 | $34.00 | $49.00 |
| $38.00 | $36.00 | $35.00 |
| $36.00 | $35.00 | $36.00 |
| $479.00 | $39.00 | $68.00 |
| $39.00 | $48.00 | $34.95 |
| $22.95 | $29.00 | $39.00 |
| $35.00 | $33.00 | $39.95 |
| $33.00 | $33.00 | $31.00 |
Wood Border Specification
Unless noted otherwise in the description, all standard wood borders supplied per the following specification:
Unfinished. Wood borders can be prefinished for an additional 10% charge. The standard finish is high-quality water-based polyurethane, semi-gloss.
Constructed in two ways: More intricate designs are made with wood top layer glued on plywood backer. Geometrical designs are made of solid wood, face-taped.
Square edge(no bevel)
Straight cut(no Tongue and Groove - T&G)
Plain Sawn wood
The standard thickness is 3/4". You may request custom thickness for inlay from 5/16" to 3/4".
Borders are sold by lineal foot. The minimum wood floor border order is 21 ln.ft. Each border corner block is sold for the price of one lineal foot unless noted otherwise.
Wood Floor Borders Common Questions
What is the border corner block?
CORNER BLOCK or BORDER CORNER is a border element designed to complement the border pattern, interrupting the flow of the pattern at the corners, usually at turns. Some hardwood floor borders do not require a corner block as they can be mitered 45° in turning points. Please allow for an additional border quantity if mitering the corners. 45° "turning blocks" are available at twice the regular corner price.
Can you make a curved border?
We can make curved border sections to fit a specific area for an additional charge. You would need to provide the template or AutoCAD for the curve or precise radius.
Can I install the border right next to the wall?
We do not recommend installing borders without space to the wall. Walls are never perfectly straight, and the border may not align. The apron area can be filled with regular strip flooring. You may create a nice "rug" effect by installing strip planks at 90° to the wall. A typical distance of the wall is about 12 inches. Minimum 6 inches recommended. You can move borders further off the wall if needed. This apron area will allow you some "play room" to adjust border placement and alignment at the corners. We recommend to dry-lay the border on the floor first.
What is the length of the border section?
The section length varies and depends on the pattern repeat of the design. Typically, it is between 2 and 3 feet. It is irrelevant for the most part. The border is made in such a way that the design is continuous. Given your required border length, we will provide whole border sections to cover this length.
---
Click on the appropriate thumbnail image to review Wood Floor Borders prices, wood species, and description. In the detail window, make sure to click on the examples images, where available, to see the astonishing floors created with our distinctive flooring borders. A popular application of the wood floor borders is to use them to separate the rooms with different floors. Another application is to define an area with a border for, example, around the kitchen island.
Check Hardwood Floor Borders Installation Instructions.
Prices for borders are shown for a standard listed width, unfinished product. If you are interested in customizing a particular model, please use our contact form. You may also call us Toll-free at 800-577-CZAR (800-577-2927) to place an order or ask questions.
Check our F.A.Q. page to find answers to the most common questions about wood borders, floor medallions, and parquet.
You may estimate the border quantity with this simple calculator:
Or use more advanced Floor Designer below.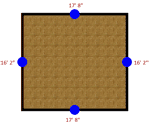 Try On-Line Custom Floor Designer
Requires modern browser such as IE9+, Chrome, Firefox, Safari. Can be used on iPad.