Stone Floor Medallions
Marble Floor Medallions, Marble Designs for Floors, Tile Medallions and Borders. Water Jet Floor Design. Read more..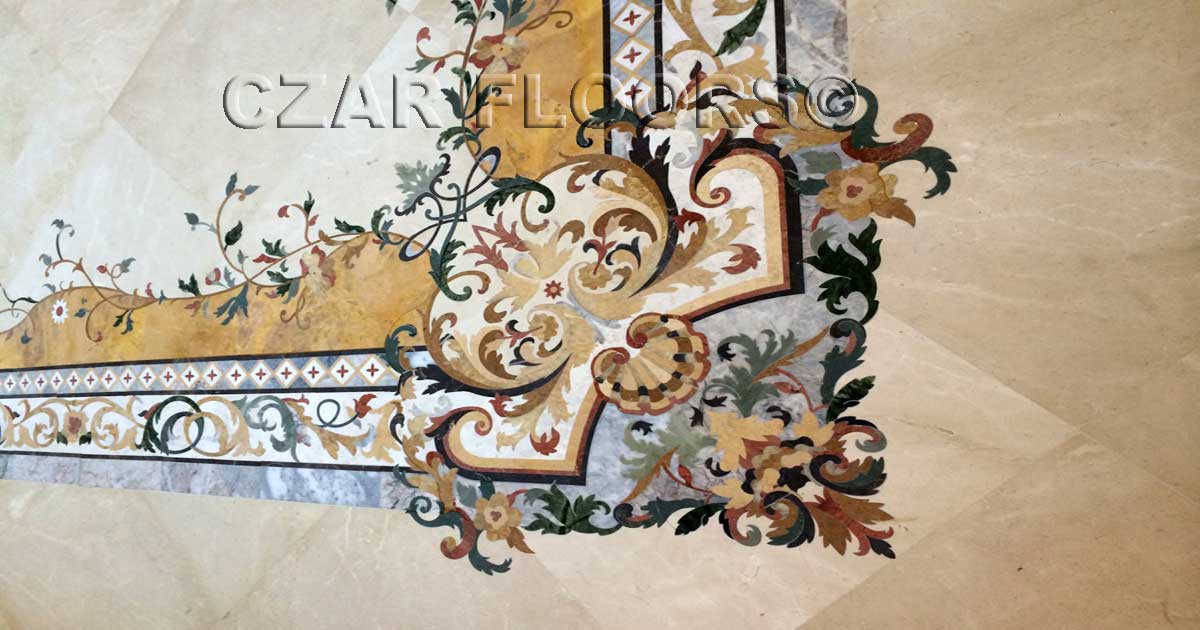 | | | |
| --- | --- | --- |
| In Stock | In Stock | In Stock |
| In Stock | In Stock | In Stock |
| | In Stock | In Stock |
| In Stock | In Stock | In Stock |
| In Stock | In Stock | |
| | In Stock | In Stock |
| | In Stock | In Stock |
| In Stock | In Stock | In Stock |
| In Stock | In Stock | In Stock |
STONE FLOOR MEDALLIONS INFORMATION:
Marble Floor Medallions are available in the designs shown on this page or in a custom design of your own, e.g., a family crest or a corporation logo.
Marble floor designs are executed by our master craftsmen in the marble, granite, travertine or porcelain. The stone medallions have been engineered to fit into stone floors or hardwood floors. You may customize any water jet marble designs with the elements from other flooring medallions or borders.
Prices are shown for a number of popular standard sizes. Most of the floor medallions can be scaled up to any size. Twelve-feet diameters are not unusual. If you are interested in the particular floor medallion size, please call us Toll Free at 800-577-2927.
The standard stone medallion thickness is 3/8". It can be made in other thickness, such as 3/4" for hardwood floor installations. For outdoor applications or different thickness requirements you may order solid marble medallions 15-18mm thickness without aluminum. Additional Freight charges apply.
The stones have no grout lines and are polished and sealed. Czar Floors stone medallions can also be specially treated to create a "non-slip", tumbled surface for an additional charge. Stone medallions can be installed in either floor or walls, and can be used as back-splashes in kitchens or as tabletops.
For outdoor applications or different thickness requirements you may order solid marble medallions 15-18mm thickness without aluminum backer. Medallions over 36" diameter shipped as several segments. Additional Freight charges apply.
Czar Floors medallions are true stone medallions. It's important to understand the difference between mosaic, tile medallions and stone waterjet medallions to appreciate the advantages of Czar Floors products.
Waterjet stone medallion are made by Czar Floors by cutting natural stone slabs with a waterjet, assembled as tight as possible on a solid backer. Stones are polished and sealed and there are no gaps or grout between individual pieces. You don't have to worry about cleaning the grout or matching grouts in color. The availability of computerized waterjet equipment allows us to cut stone to incredibly close tolerances. The example below illustrate the precise placement of inlay elements.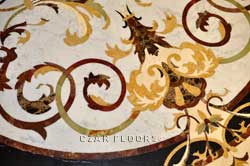 Czar Floors stone medallions use a sturdy aluminum backer. This "space" material is light and strong, allowing for easy handling and shipping. The same noncorrosive aluminum is used in avionics. The back side of the medallion is rough sanded to permit better adhesion to the subfloor. Thinset or commercial adhesive can be used.
The example photo below shows how a waterjet marble inlay cane be used as a tabletop. Note that the aluminum backer provides sufficient support for the marble top without any additional subbase.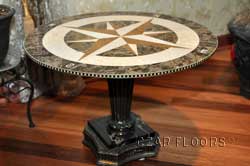 Medallions up to 60" can be made as a single piece, ready to install. This would be impossible without the use of an aluminum substrate.
Other types of stone inlays available on the market have a number of shortcomings:
Mosaic medallion are made from small stones, tiles or glass pieces assembled together with grout gaps. It's typically attached to mesh on the back. Gaps between pieces have to be filled with grout. Medallions larger in size are more difficult to handle as the medallion is not solid; rather they are more flexible like a "pizza." Pieces may separate and get lost in transit or handling.
Tile medallions are made from cutting standard off-the-shelf ceramic, porcelain or travertine tiles. These medallions are typically shipped as a set of labeled, precut tiles to be assembled on-site. The installer will have to put grout between the tiles and assemble the pieces. Medallions will have seem lines going across the surface. Solid stone pieces are very heavy and fragile, prone to breakage in transit and handling, and expensive to ship.
See our F.A.Q. page to find answers to the most common questions. All medallions over 48 inches are packaged in a wooden crate filled with special foam and shipped via freight company to prevent damage during shipping.
Review Stone Medallions Installation Instructions.
See all Available stones.
Natural stone is a product of nature and varies in color, veining, and shading from tile to tile. This is part of the beauty of using natural stone and is what makes your natural stone floor unique. Consequently, the natural stone product images you see on this website will vary from the actual product we create. Please note that on-screen colors are not necessarily precise representations of actual product colors due to variance in monitor calibrations.
What is the right floor medallion size for the room? A good rule of thumb is to choose the size to be between 1/3 and 1/2 of the width of the room. For example, if the room is 20' long by 15' wide, the medallion can be 60".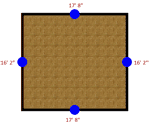 Try On-Line Custom Floor Designer
Requires modern browser such as IE9+, Chrome, Firefox, Safari. Can be used on iPad.