About Us
Frequently we are asked how we chose the name of our company, Czar Floors. When we began as an artisan wood products business over 20 years ago, we wanted a name that would embody our business philosophy's very essence – treat our customers like Royals and offer the very best floors and services in the industry. Our first design inspiration came from unique inlay wood floors we've seen in imperial palaces all over the world.
We are proud of our designs and unique experience. Our company is a member of the National Wood Floor Association and Better Business Certified program.
Our Process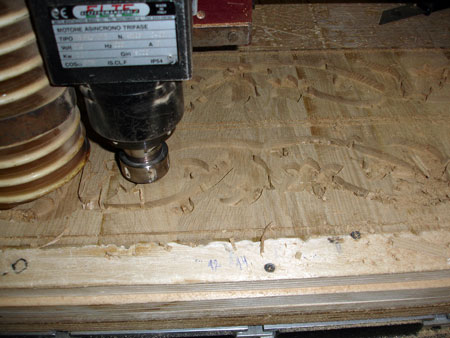 The real beauty of the wood inlays is in the natural grain and color variations of the wood.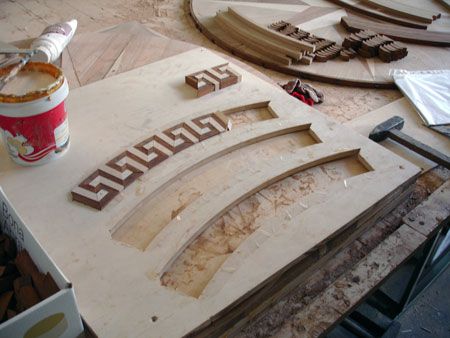 Precision is guaranteed by the detailed specifications developed using Auto CAD software. Every inlay element is designed to ensure the minimal waste of the precious wood.
Technology has proven itself over the years as superior to most products in the market. Read more about our products in the F.A.Q. page.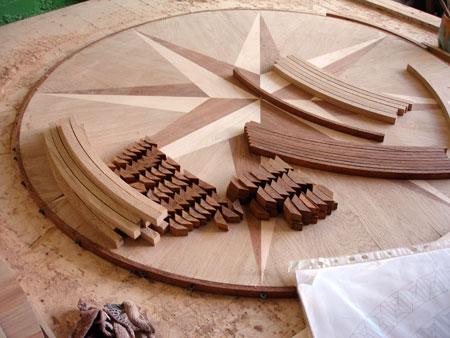 From simple medallions to whole-room intricate inlays, our craftsmen meticulously check every element for proper fit, color, grain direction, etc.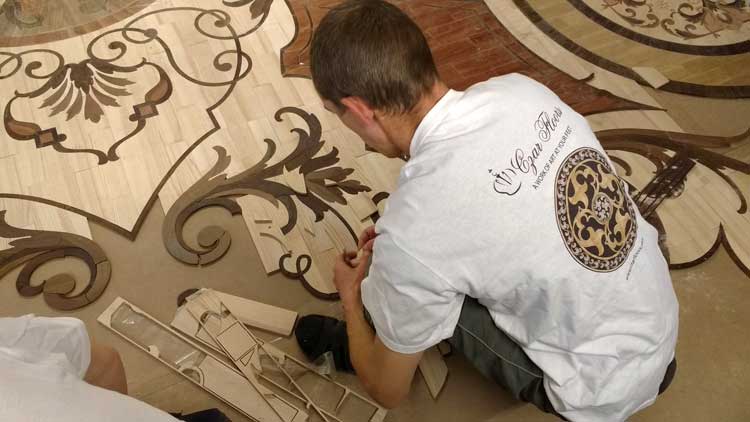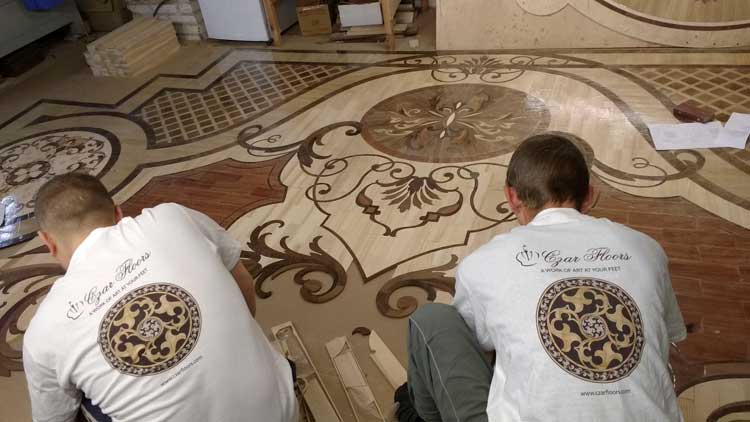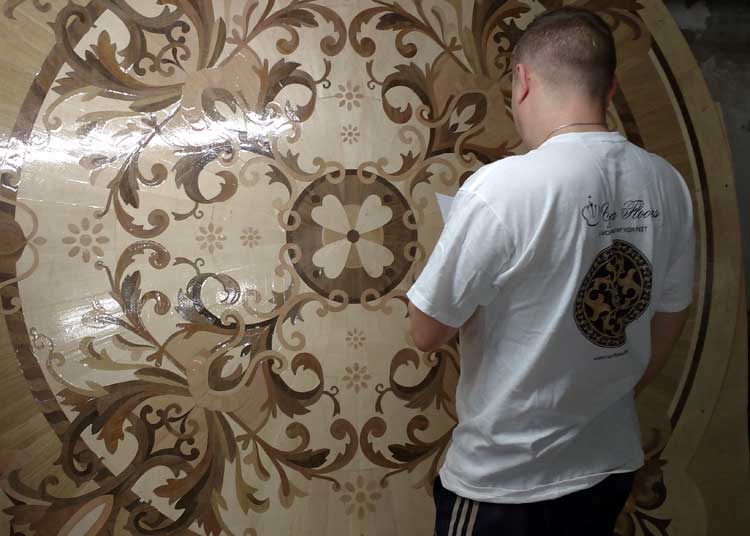 The same concept applies to our stone inlays division. Powerful waterjet equipment cuts marble slabs into precise pieces of inlay.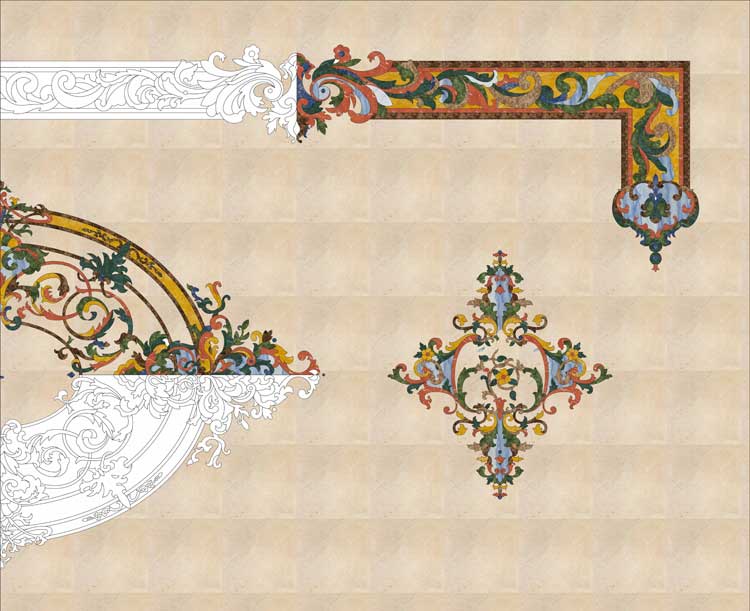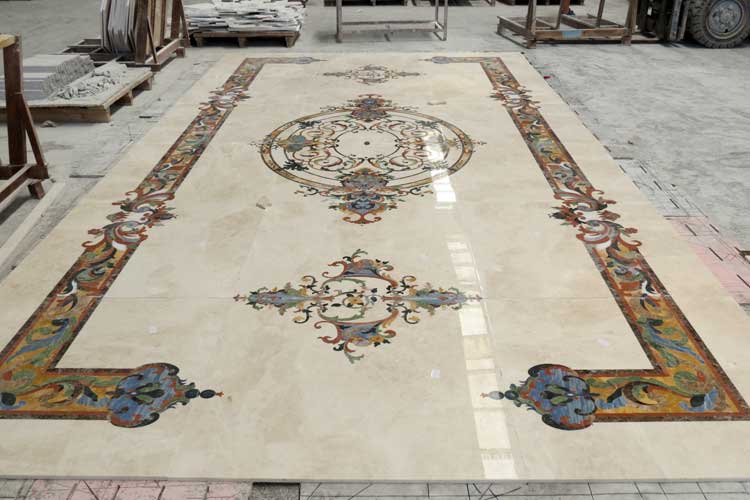 Our Awards and Achievements
Czar Floors won multiple awards for its work. We received three NWFA awards for Best Floors of the Year in 2007. The competition yielded 215 entries from six countries. Winning entries were judged by wood floor professionals - members of the NWFA(National Wood Flooring Association) through anonymous on-line voting. Next 2008 year brought another award - Best Living/Family room. We repeated the same success in 2009, 2010, 2012, 2013, 2014, 2016, 2019. For three years in a row, Czar Floors receives ADEX (Award for Design Excellence) awards for their products.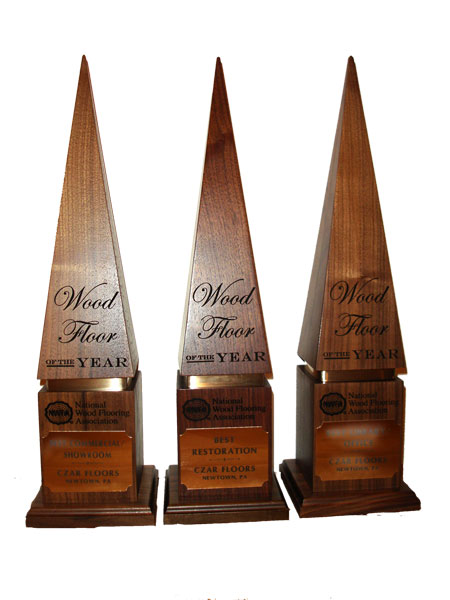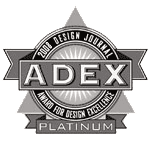 All of our artisan products are hand-assembled and packaged with care. All wood and stone medallions are sealed in plastic and custom packaged to protect and prevent damage during shipping.
What people are saying
---
"We had finally installed the medallion we purchased from you, and I am glad to say that is looks absolutely gorgeous!!!
I would also like to thank you for exceptional service and will definitely recommend you to others!
(My only regret is that I cannot put more medallions in my house right now, and I see that you got a whole new variety of them.)
Thanks again."
Alla... New Jersey.
---
"...my floors are all installed and the Medallion I ordered is
fantastic. Everyone who has seen it raves about it.

I checked a lot of web sites before I purchased from you and yours was
the best of all the sites and had great pricing.
I am a pleased customer."

Eric... California
---
"..Your efforts at making this happen in a timely manner are greatly appreciated, and I think you can now add this project to your portfolio of happy customers.
Gerry Hanby
Bernardon Haber Holloway Architects PC

(Aronimink Golf Club, PA, Great Ballroom parquet)
---
The medallion arrive last week and I have to say it is absolutely beautiful and has exceeded all of my expectations! Many thanks for the very fine work!
Jim.. Boston
Read Houzz Reviews:
★ ★ ★ ★ ★